TORONTO OFFICE
Fully-Staffed Resume Service
*Phone Orders Accepted*
8642 Yonge Street
Richmond Hill, ON L4C 6Z4
Open 7 days: 9 am to 10 pm

Call: 1-800-461-0949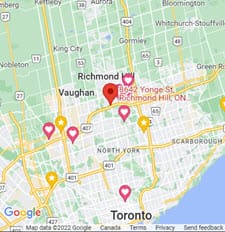 Resume Assistance in The Greater Toronto GTA, Ontario, all Canada
Our team has been writing resumes for 19 years. We are a Canadian-owned family business since 2003. You can trust our Professional Resume Writers to update your old resume or write a great new resume. We are open 7 days a week. We accept phone orders. You do not have to come to our office. Instead, just give us a call and we will write (or update) your resume together with you on the phone, and send it right back to you by email the same day!
Resume Writer Near Me
Whether you are in Toronto, Richmond Hill, North York, Vaughan, Brampton, Thornhill, Markham, Scarborough, the Greater Toronto GTA area, Ontario, and anywhere in Canada, you no longer have to search Google for "resume writing near me". Cheap Fast Resumes is a resume writing company with 19 years experience writing professional resumes. For many years, our expert resume writers have been providing customers throughout Canada and The Toronto GTA with expert resume assistance services.
Our resume writing services include resume writing and resume preparation, and fast affordable updated resume services. We design your resume correctly, showing your skills and abilities in the best possible light. Our team consists of professional resume writers who have worked in recruiting and human resources for many years. They know what a great resume requires in order to help you get hired. We also provide free same-day fast resume service.
How a Great Resume Can Help You Land the Best Jobs:
In today's world, the job markets are highly competitive. Having a good resume can make you stand out from the rest and let employers know that you are the best candidate for the position. People invest a lot in their business, so of course, employers don't want to hire just anyone to work for them. They want to know a lot about you first before they will trust you to run parts of their business and represent their company. The following shows what a good resume can do for your career:
Outlines Your Experience and Skills
A well-structured resume not only highlights your experience and best skills to potential employers but also shows that you would be an asset to the company. Using the right structures and formatting elements such as colors, design, and appropriate margins makes your resume more professional. This reflects on you as the best candidate for the position.
Displays What You Can Bring To The Table
Yes, skills and experience are an important part of your resume, but to turn a good resume into a powerful resume, it should also show how these skills and experience can benefit a company. For example, if you last worked in sales, rather than say you were a high performer, let them know what allotted you this title by adding your achievements... brought in $200,000 worth of media sales annually. You can also add things like by gaining 2,000 social media followers, I was able to increase sales by 20%.
Grabs An Employer's Attention
The top quarter of a resume is called "above the fold". This part is considered the biggest attention grabber since it is seen first. Therefore, make sure your biggest highlights are noted in this area that can be seen at a glance. Adding a professional headshot photo is a great attention grabber, and it allows an employer to actually see who they will be working with. Thus, there are a number of paper options you can use to print your resume and make it stand out even more, rather than using general paper stock like everyone else.
Get Your Resume Written by Experts
If you are seeking a great resume writer for resume assistance in Toronto, Richmond Hill, North York, Vaughan, Brampton, Thornhill, Markham, Scarborough, the Greater Toronto GTA area, and anywhere in Canada, get in touch with us today. We offer affordable resume help and same-day resume service for those who need a resume fast!
Experience, Credentials, and Expertise
Our Certified Resume Experts have many years professional resume writing experience, including ATS (Applicant Tracking System) keyword optimization. We have worked directly with national recruiting firms, staffing placement organizations, and human resources management for many years.
Update My Resume: Contact Us for a Customized Resume
Contact us for affordable resume writing services and resume assistance in the Greater Toronto Area and all Canada.
TORONTO OFFICE
Fully-Staffed Resume Service
*Phone Orders Accepted*

8642 Yonge Street
Richmond Hill, ON L4C 6Z4
Open 7 days: 9 am to 10 pm
Call: 1-800-461-0949